24 Oct

Staying Active Through Pregnancy: Dr. Nina Baker Did It & You Can, Too!

By: Dr. Nina Baker

Physical fitness has always been important to me and staying active helps me feel my best, both physically and mentally. Throughout my pregnancy, I attempted to continue incorporating exercise and movement into my routine. It wasn't as easy as I expected and each trimester had its own unique challenges! As I made my way through my first trimester, large amounts of fatigue and nausea came with it, and this led me to changing my exercise routine. At times, crawling out of bed in the morning was enough of a workout in itself!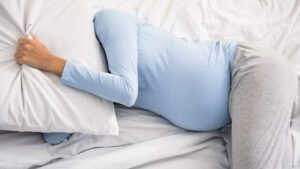 I have always enjoyed strength training, interval training, and the occasional run; but none of these seemed physically (or mentally) possible for me at the time. I did A LOT of walking on the treadmill that winter. I also dabbled with the Stairmaster on days I was feeling up for a challenge. I tried to continue less-intense interval training and eventually, by my second trimester, any exercise that involved jumping felt out of the question due to my growing belly. Luckily, in my second trimester I was feeling much more energized and began incorporating strength training back into my routine.
I felt very lucky that I was physically able to do this – with my doctor's approval and advice. However, my third trimester is really when I began to hit the wall and was on the struggle bus. My belly was only getting bigger and more in the way, and I was feeling the aches and pains that can come along with pregnancy. I still did my best to get movement in. When all else failed, I would at least try and sneak in a walk, whether it was on my lunch break or after work.  At the end of the day, I always gave myself grace if I needed a rest day (or a rest week) because I was growing a whole human! 
I'm so grateful that I had a healthy pregnancy that allowed me to continue being active. I am certain that my commitment to exercise and movement over the years helped me to continue to enjoy being active during my pregnancy. Whatever it is that you love to do, whether it's yoga, running, Pilates, or something else, you can do it throughout pregnancy, too! I truly felt that continuing to exercise throughout my pregnancy helped me to feel strong when I finally made it to the delivery room. While you certainly cannot plan for everything that is going to happen throughout pregnancy or labor and delivery, you can prioritize your health through movement. Always make sure to check with your doctor and do what's best for your body and your baby! It's amazing what our bodies are capable of, and you'd be surprised how much you really can do 😊  
Dr. Nina Baker and baby Theodore!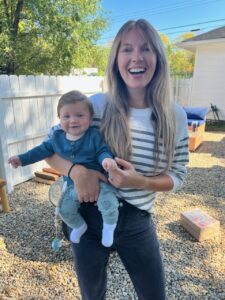 If you need help staying healthy through pregnancy and beyond, Body One Physical Therapy has three locations serving Central Indianapolis: Fishers, North Meridian, and Zionsville. We also do offer some Pelvic Health PT services as well, which can be helpful for many of those expecting – both pre and post-natal.