14 Apr

From Injury & Surgery to the World's Largest Marathon

Body One physical therapists are no strangers to big goals and helping our patients reach them; however, some roads to recovery are more challenging than others. When long-time running coach, runner, and Boston Marathon qualifier, John Maley, came to us prior to orthopedic surgery and still hoped to make the April 17 start line, we got to work!
John Maley has always had a passion for running and competing. He has also taken his love of running and shares it with young athletes; John is currently the Assistant Coach for the Brebeuf girls' Cross Country team.  To help reach his own goals, John has a personal coach for training and racing, His coach is an accomplished runner herself: Anna Weber hails from Indy and is a renowned multi-Olympic Marathon Trials competitor.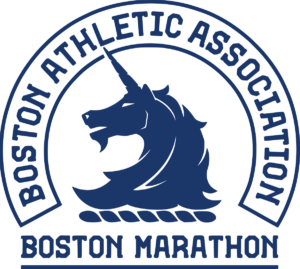 Just getting a spot in the Boston Marathon is an impressive achievement. Each age group has a specific time requirement, and hopeful runners must submit official race times from "Boston qualifying" events. For instance, our own local Monumental Marathon is a Boston Qualifier, with many runners picking the "flat and fast" course to use as their qualifying attempt. John's age group was the 55-59 group, and at age 59, John ran an impressive 3:28 marathon time, meaning he finished the full 26.2 miles in under 3.5 hours! John Maley's Boston philosophy was simple; he'd earned it, and he wanted to experience and enjoy it. After his injury, the challenge would be ensuring he reached Boston.
In August of 2022, an MRI picked up a partial IT band tear in John's right knee. The IT band is often a problem area for many runners. This big, tough band of fibrous tissue extends from your hip to your knee and often becomes irritated with repetitive motion. Runners are especially prone to IT band issues, as it's an "overuse" injury and running requires the same motions for sustained periods of time. John treated this initial issue with Platelet-Rich Plasma Plasma (PRP) at OrthoIndy. PRP's goal is to use your own body's components to speed healing. Unfortunately, a second MRI in November of 2022 detected a moderate tear in the meniscus of John's left knee. This injury would require surgical repair.
The meniscus is the cartilage pad in the knee that acts as a shock absorber. Sometimes meniscus tears are minor enough that they don't require surgery; however, John's injury was serious enough that he scheduled surgery at OrthoIndy for January 6.
Because we know that post-surgical experiences can be improved with "prehab" – physical therapy before surgery – John began a treatment plan with Dr. Brian Pease and Dr. Tara Gilreath. He also continued non weight-bearing activity on the elliptical and exercise bike right up to the day of his surgery. John didn't get much rest; the day after he had meniscus repair surgery at OrthoIndy, John began physical therapy every day for the first two weeks after the operation, then dropped to three times a week.
With his plan to reach his Boston Marathon goals, in addition to regular PT with Dr. Brian Pease and Dr. Gilreath, he also utilized other training and rehab tactics. With Brian's okay and his running coach's suggestion, John used a LEVER treadmill device to help continue his training while reducing impact and re-injury risk. This type of treadmill-assist device supports a percentage of the runner's weight in order to help protect the area that's healing.
And John's training and PT has paid off! According to Dr. Gilreath, "John's recovery has been incredible to watch. We rehabbed him like a pro athlete, as he came in five days per week initially. Our big goals were to improve his knee range-of-motion, control swelling and pain, and improve quad function to facilitate early return to running. John was diligent about performing his home program which made our jobs easy!"
John is now in the home stretch of training, doing his pre-race "taper," meaning dropping his running mileage to allow his body time to rest and prepare for the challenge ahead. According to John, he isn't chasing a personal record (PR), just a "solid Boston experience." Given the dedication, effort, and passion he's given his training and recovery, we are sure he'll have a great experience!
While not every patient has a goal of competing in the Boston Marathon, we believe in helping all our patients reach their goals! Some patients want to enjoy gardening, hiking, or walking their dog, while others like John want to return to competing at a high level. Our team of caring, expert providers is experienced in working with patients of all ages and activity levels. We are locally-owned and operated with three conveniently located clinics in Indianapolis: Fishers, North Meridian, Zionsville. If you're ready to get back on track, reach your goals, and recover like a pro, with the pros, call or click today!