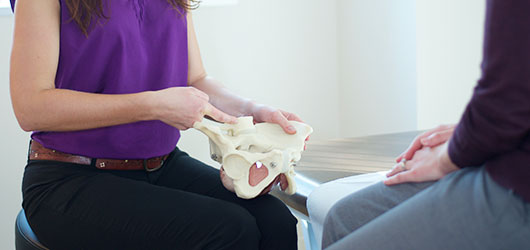 13 Jul

Did You Know PT Can Help With Pelvic Health Issues?

Many women have bladder conditions or muscular changes post-partum; however, just because something is common doesn't make it normal. (It isn't just women: men can have pelvic health concerns, too.) Addressing these issues can be more effective -and faster- than you think.

Some stats:

36% of postpartum women will discover they have separation of stomach muscles
33% of women have bladder leakage
The good news is that you have options beyond a bladder-leak pad or whatever answers or advice you may find on Dr. Google. Physical therapy can be very effective in treating many pelvic health issues that occur as people's bodies change, whether as a result of childbirth, surgery, or the effects of time.
A physical therapist specializing in pelvic health can perform a detailed musculoskeletal assessment of abdominal muscle separation, pelvic floor muscle function, postural alignment, and coordination of deep trunk muscles. Based upon those findings, your physical therapist will create a custom treatment plan. Each of these functions are important in preventing incontinence, prolapse, and back pain that may be experienced throughout daily tasks, and interfering with an individual's ability to engage in physical activities that they love to do, such as running.
Treatment may include:
appropriate strengthening exercises
muscle awareness activities
manual therapy techniques, soft tissue mobilization
home exercise program instruction
patient education
On average, many patients see improvement of common pelvic health conditions in approximately six PT sessions!
At Body One Physical Therapy, we recognize that these health issues can be a sensitive matter and are often difficult to discuss. We ensure a safe, private, and welcoming environment where a patient will feel comfortable undergoing treatment with our therapist, who is specially trained and certified in pelvic health PT.
Dr. Amy Poynter is treating pelvic health concerns at our Fishers location. If you are experiencing any of the symptoms mentioned above or are interested in preventive care, please contact Body One today to schedule an evaluation! Thanks to Direct Access, most patients don't need a referral for 42 days; after that we'll work with your doctor's office should a referral be necessary. Don't suffer in silence or give up on feeling great, call or click today!