20 Jul

Want a Great Activity? Try Tennis! Here's How

Looking for a new sport to try? Consider tennis: it's a great sport for people of almost any age and physical level.

In fact, according to the U.S. Tennis Association, people who play tennis just three hours a week cut their risk of death in half! Additionally, they also noted the many physical and psychological benefits of playing tennis.
Better general health
Better mental health
Better social health
Reduced risk of smoking
Healthier body composition/weight
In fact, playing tennis can potentially help you live a longer life! During that longer life, playing tennis can improve the shape you're in. The sport is great for aerobic fitness and developing muscles. Psychologically, it helps players gain stronger discipline and strategy by having to think ahead in the game. Tennis is a sport that uses all of your body's muscles, but especially the shoulder, upper arm, and thigh muscles.
It's also a great sport for any age, because you can begin at any fitness level and develop your skills and improve as you learn. So whether you're a seasoned athlete or are new to fitness, tennis is a great activity to pick up. Want to get started? Here's how:
Visit Your Doctor & Physical Therapist
Anytime you start a new sport or activity it's always a good idea to ensure you're healthy enough to play. This could mean being sure you're up-to-date with your annual physical at your GP's office and scheduling an Annual PT Exam. By visiting with a Body One physical therapist, you'll learn of any problem areas, strength imbalances, and what you can do to improve as well as reduce the risk of injury.
Meet with an Instructor
It's a good idea if you've never played tennis before to reach out to a tennis instructor for lessons or take a class. You'll gain a better understanding of the game and learn fundamental skills with proper form.
Get the Correct Equipment
Having proper equipment is an important step to playing your best and doing it safely. You'll need:
A supportive pair of tennis shoes (look for shoes with non-marking soles)
A properly-fitted racquet – visit a specialty sport store for this service
Tennis balls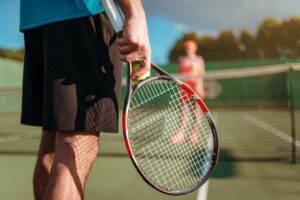 Spend Time on the Court
To get more comfortable on the tennis court you'll need to spend some time on one. Find a nearby court you can practice or play at a couple times a week. Practice hitting the ball with a partner who is willing to work at your pace, or practice alone on improving skills like serving the ball or your forehand or backhand.
Practice in Groups
Playing with an instructor is helpful, but playing with a variety of people can also help you advance your skills. Some recreational leagues will help match you to opponents of a similar skill set! Don't discount asking friends to play – plenty of people might either know how or be willing to learn along with you!
Whether you're ready to learn a new sport or if you're having trouble playing your favorite sport, Body One is here to help.  Our team of caring PTs is ready to tackle whatever brings you through our doors! We have three convenient locations serving Central Indianapolis: North Meridian, Fishers, and Zionsville. Call or click today!
Sources:
https://www.usta.com/en/home/improve/tennis-health—fitness/national/benefits-of-playing-tennis.html