26 May

What is Ankylosing Spondylitis and How Can I Improve Symptoms?

We know that discovering your symptoms have a name can be both a relief and scary at the same time. It helps to learn what your condition means, what the symptoms are, and maybe most importantly – what you can do about it.

Ankylosing Spondylitis is a type of arthritis that causes pain and symptoms primarily in the back and spine, although it can also cause issues in other joints and a specific type of eye condition. AS is notable because it can cause vertebrea to fuse together and affect where ligaments attach to bones.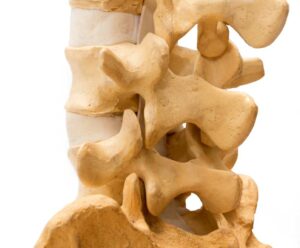 Symptoms of AS include pain and stiffness in the back, hands, feet, rib cage, heels, and more. Due to the nature of AS, you may notice that your spine is curving and you feel hunched, or you aren't taking deep breaths. Some people with AS also have an inflammatory eye condition that can make their sight blurry or cause light sensitivity. Another hallmark of AS is symptoms that are worse when you wake up and that improve as you become more active throughout the day.
Although it may seem like this inflammatory form of arthritis might feel better with rest, the opposite is actually true! As we often say, movement is medicine. Staying active and moving and working with your care team, including a physical therapist, can help manage your AS symptoms. Physical therapy is a great way to ensure you have good flexibility and range of motion, as well as to address any unique challenges with your specific condition. Everybody is different – literally – and by working with a PT, you can focus on your goals and any specific concerns you have with your AS.
While AS, like other forms of arthritis, doesn't have a cure, there are ways to help treat the symptoms and physical therapy is an ideal way to help you stay active. We can't promise that we'll cure you but we can say that almost everyone benefits from physical therapy. If you are struggling with a new diagnosis of ankylosing spondylitis or you need help managing your AS, Body One is here to help. We work with patients of all ages, backgrounds, and musculoskeletal conditions, and our team of expert providers is ready to get to work!
Body One is locally-owned and operated. No gym full of treatment tables here: instead you'll enjoy private treatment rooms and one-on-one attention at each of our three clinics. We have locations in: North Meridian, Fishers, and Zionsville. Come see what makes Body One better! Call or click today!
Reference: https://www.webmd.com/ankylosing-spondylitis/what-is-ankylosing-spondylitis