11 Mar

Patient Success Spotlight: Student Athlete Recovering with the Help of BFR

We know how hard our patients work to reach their goals – and how hard our providers work with them along the way. That's why it's always great when we can take a moment to highlight a patient's efforts and success in a Patient Success Spotlight. In this spotlight, we're showcasing one of Dr. Kaitlynn Austin and PTA Tanea Spanton's patients, Trevor Adler. Trevor came to Body One as many patients do: post-surgery and ready to start working on their recovery. Trevor is a safety on the Marion University football team and naturally wants to focus on a great recovery.

Our team has utilized BFR during his treatment; BFR (blood-flow restriction) is often ideal for this kind of patient, since it simulates lifting heavy weights when you can't due to injury or surgery. Due to the restricted blood flow, it actually helps stimulate the production of growth hormone to increase lean muscle, form stronger bones, regulate metabolism, and advance collagen production – all aiding in recovery.

We're sharing Trevor's answers about his PT journey below in our Spotlight Q&A:

Q. Share something about yourself:

A. I'm a student-athlete at Marian University.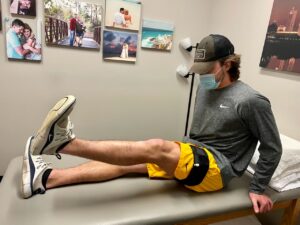 Q. What issue or injury brought you to Body One?
A. Knee surgery to repair a torn meniscus.
Q. How did you hear about Body One?
A. Through my school.
Q. What provider/s did you work with?
A. Dr. Kaitlynn Austin and Tanea Spanton.
Q. What was your biggest challenge during your recovery?
A. Getting used to not being able to be physically active. Bending my leg back to fully able.
Q. What was your biggest success?
A. 133 degree and slight leg workouts with no pain.
Q. What are some goals you've set?
A. To be 100% asap!
Q. What else would you like to share about your physical therapy and recovery experience?
A. Body One has been great and helpful. Nice great people in that building.
Trevor's story is unique to him, but shares common themes with many of our patients. PT can often be challenging, especially when you're ready to get back to your favorite activities or sports. One way we can encourage patients is suggesting they put the same amount of drive, determination, and effort into their recovery that they do into their usual training or activities. Hard work pays off! Goal setting can also be a great way to help keep your motivation up, especially through the inevitable challenges that arise throughout your rehab. We're excited to see the progress Trevor has made and know he can't wait to feel -and move – better than ever!
If you're recovering from injury or surgery, like Trevor was, our team is ready to help. Our team of experts works with patients of all ages and activity levels and we're ready to get you moving in the right direction – like back to your sport or activities! We are both locally owned and operated, with three locations serving Central Indianapolis: North Meridian, Fishers, and Zionsville. Call or click for more information.