16 Mar

March Madness: Basketball Injuries That Will Wreck Your Game

The biggest moment in college basketball is finally here: March Madness! Whether you're lucky enough to watch your favorite team in person, you're binge-watching games at home, or plan a pick-up game with friends, injuries are always a part of the game – and something to watch for.

Basketball is a highly physical sport that involves planting your feet and cutting-movements with quick bursts of speed.  With such aggressive movements, plus the harsh training schedule some basketball players face,  injuries can be far too common.

Some of the most common injuries we see from playing basketball are: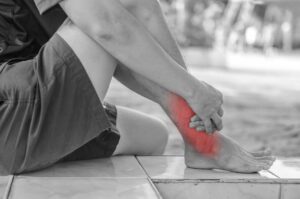 Ankle/foot
Hip and thigh
Knee
Head/concussion
A sprain is the most common type of injury players experience; the second most common is general trauma and overuse.
We talked to Dr. Matt Zaudtke, who practices at the Body One Physical Therapy – North Meridian location. "Injuries happen all the time in basketball, but a lot of them could be avoided," Dr. Zaudtke said. "It's important to take proper precautions and allow time for your body to rest and recover when you start to notice pain or discomfort."
The best way to treat any injury is to prevent it from developing in the first place.  To prevent developing a serious injury it's important to listen to your body. What starts as a small nagging pain can grow into something big if you don't take care of it quickly.
Whether you're out on the court yourself, or you're the parent of a young athlete, make sure that you or your athlete use a dynamic warm up and take time to properly cool down after your workout. Proper recovery is just as important as every other part of your training; that's why you'll see your favorite players working with trainers and using specialized tools to recover after games. We developed our Recovery Plus program utilizing the same principles and tools the pros use. Read more here about how you can recover like a pro!
If you're feeling pain at any time during your activities, it's crucial to rest and listen to your body. Pushing through pain is almost always a recipe for injury! You can try at-home treatment like icing and rest; but if that doesn't help, it's time to call Body One to see one of our expert physical therapists. We provide free injury screens at all three Body One locations! When you see a Body One physical therapist for an injury screen, your PT will give you recommendations to help with your pain and/or symptoms, or suggest a PT treatment plan, imaging, or visit with a physician – depending on their findings.
"Our therapists are trained to meet the very specific needs of athletes," Dr. Zaudtke said. "We know how important it is for them to get back to the game they love, and we understand our role in that process and the level of care all patients should come to expect from their physical therapist."
Whether you're a basketball player with an injury, a student athlete wanting to improve your performance, someone tired of back pain – or anything in between – our team of expert, caring providers is ready to put our skills to work and get you back to doing what you love. We're locally owned and operated with three locations serving Central Indianapolis: Fishers, North Meridian, and Zionsville. Thanks to direct access, you can schedule your appointment with us without a referral for42 days*; our office will work with your doctor's office and insurance should you need one. Don't let pain or movement problems limit your life, call or click today and find out why we're the Best PT Practice in Indy!
*with most insurance plans