25 Feb

Want Less Back Pain and More Strength & Flexibility? Pilates May be the Answer!

Written by: PTA Brittany Davis

Are you interested in Pilates? Do you have back pain flare ups? If you said "yes" to either one, coming to Body One Physical Therapy could be the solution for you! As a PTA at Body One North Meridian, I specialize in helping patients by using the Pilates Reformer for treatment.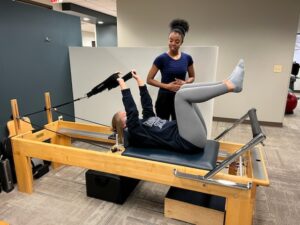 What's the Pilates Reformer? Although people may be intimidated by the name – or the equipment- it's simply a tool we can use that allows us to  perform specific exercises and target certain areas of focus. Most people find that after a few times they look forward to working on the Reformer since it's challenging and different than other physical exercise.
It's important to note that there is research indicating that Pilates is effective at improving core strength. Although people tend to think of "the core" as your stomach muscles, your core actually extends all the way around your abdomen and includes your deep back muscles. This is why a "weak core" is a bigger problem than crunches alone can solve.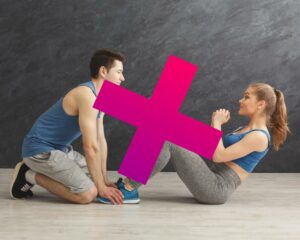 Pilates is great because many of the exercises allow your spine to be in a comfortable position. This modified position creates an ideal exercise that does not cause irritation to other parts of your body. In addition to an ideal body position, Pilates offers an all-in-one full body workout designed for strength and flexibility. For example, you can work on improving your core strength and upper body strength in one exercise! Although many people confuse Pilates with Yoga, they aren't the same fitness activity at all. Almost all of our Pilates patients find it to be a rewarding, challenging, and effective work out.
Pilates is a unique and comprehensive way to get stronger, improve flexibility, and to recover from various injuries. At Body One, we offer Pilates with PTA Brittany Davis, Pilates classes at select locations as part of our Wellness services, and also in connection with Physical Therapy. If you have questions about how Pilates can improve your strength and flexibility, call or click today!
Body One has been locally-owned and operated and has served the Indianapolis community for 20 years! We have three conveniently-located clinics: Fishers, North Meridian, and Zionsville. Our team of expert providers treats patients of all ages and activity levels and we're ready to help get you back to BETTER than your best. Don't let pain, inflexibility, or movement problems stop you from reaching your goals: contact Body One today.