19 Mar

Work from Home – Without Wrecking Your Body

It's no secret that the last year has brought some major changes to daily life: from where we eat, to social gatherings, to kids' school routines, and -of course- our jobs. What started for many workers last spring as a temporary shift to telecommuting has become semi-permanent for many. As people turned couches and dining room tables into makeshift offices (often sharing space with a remote-working spouse or remote-learning child), the physical toll soon became apparent…
Back, Neck, & Nerve Pain – Oh, My! 
According to Dr. Ryan Tapp at our Body One PT Fishers location, in the early days of the pandemic he saw many patients come in for neck, back, shoulder, and related-nerve pain. "They were sitting on their couch, slouched over while they worked," Dr. Tapp said. "Research has shown that for every inch your head goes over your chest, you add 15 pounds of pressure to your cervical spine."
That means that when you sit in your favorite chair or on the couch, or work at the kitchen table on a laptop, you're likely slouching and adding the weight of an extra head (or two) to your neck! Shoulder pain, back pain, and nerve pain are also caused by -and made worse by- this poor posture and lack of support. At your regular job, you likely were working at a desk, with a supportive office chair. You might have even had a standing desk which allowed you to work while standing and avoid slouching in a seat.
Most everyone was unprepared for a sudden move to working from home, and had to make do with a laptop and whatever space was available. This led to the increase in back, neck, and nerve pain that Dr. Tapp and many other Physical Therapists began to see.
How to Do it Right
"I think people are figuring it out more, and setting up better work stations," Dr. Tapp also said, noting that over time he believes people have started making positive changes and moved from the couch and comfy-chair to more work-like settings at home. "I feel like these visits have been dropping off a little." Whether it's because a spouse has returned to work and freed up space, or the reality of the long-term shift to telework has kicked in, creating a healthier at-home work environment is essential.
If you work from home and want to ensure that you keep good posture and help prevent back, shoulder, neck, and nerve pain related to teleworking, let's get started: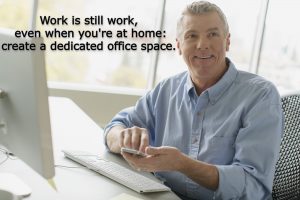 Choose a chair with a firm back
Add a pillow or rolled-up towel at your lower back for support
Work at a desk or firm surface (not on your lap)
Invest in a separate keyboard, mouse, and monitor -laptops are typically pretty hard to use without falling into bad posture habits. (Computer extras too pricey? Try your local Goodwill or thrift shop!)
When using your keyboard and mouse, keep your hands in line with your elbow (picture a right angle). You don't want to have to reach to type or click.
Put your monitor at eye level, so you don't have to strain your neck looking down. You can get a stand, or even use a solid, thick book.
With some companies saying they don't know when they'll return to the office, and others announcing they plan to remain a remote workplace, it's time to upgrade your home office setting – if you haven't already.
Also remember to move: take breaks, get up, stretch, and walk – even if it's only down the hall.
With some companies saying they don't know when they'll return to the office, and others announcing they'll remain a virtual workplace, it's definitely time to upgrade your at-home work environment, if you haven't already. Making some basic changes can mean the difference between working comfortably and painfully not working – and needing to see a provider like Dr. Tapp to resolve your symptoms.
If working at home (or other activities) has caused pain or movement problems, the team at Body One PT is here to help get you back to feeling your best. We're locally owned and operated, with three locations serving Central Indianapolis: North Indy/Carmel, Fishers, and Zionsville. We work with clients of all ages and activity levels, and if you're ready to work from home and feel good doing it, we're ready to help you do it. Call or click today!