23 Feb

Is Running Bad for Your Joints? We Answer this Common Question

It's the time of year when you'll start to see more runners outdoors – and if you are a runner, you're no doubt looking forward to the nicer weather around the corner. During last year's lock down, running was one thing that could get you out of the house – so people who hadn't run in years suddenly invested in a new pair of shoes and started logging miles.
Despite running being a healthy activity, one question that comes up for new and experienced runners alike is: is running bad for your joints? For years, running has gotten the reputation of being a knee-destroying past-time that belongs to the young. When we talk about running being bad for your joints, it's almost always the knees that people are talking about. It's so ingrained as an accepted idea that when non-runners talk about running, one of the reasons they give for avoiding the sport is that it's 'bad for the knees.' The good news is that there's a difference between what's accepted and research…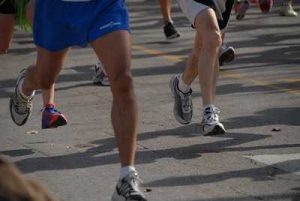 As we've written before, studies in recent years have taken a look at knee arthritis – both in runners and non-runners. Although the researchers initially expected to find a higher rate of arthritis in the runners, the opposite was true! In fact, in looking at runners and the general population, runners tend to have healthier knees. What research is showing is what we've known in Physical Therapy for a long time: movement is medicine! Activity and weight-bearing exercise help keep joints healthy!
So if the good news is that  running may not cause the damage you fear, what does cause knee damage? One major factor is carrying too much weight. The more weight your knees bear, the more stress and strain they're under throughout your day. Walking, daily activities, and exercise all become a bit more wearing when your knees are under strain from carrying excess weight. Inactivity can also be a problem! Although this sounds counterintuitive, it really makes sense: your knees are designed for movement and function. Think of activity the same way you'd think of routine maintenance for your car. It's always easier to keep up with maintenance than to deal with a costly repair!
Knee pain, arthritis, or other problems can limit your activity, take you out of the game (literally and figuratively), and be emotionally upsetting. The good news is that Physical Therapy is a frontline treatment for knee pain, movement, and other issues. Physical Therapy can help you strengthen the surrounding and supporting areas, improve flexibility and movement, and even reduce pain and discomfort. Your Physical Therapist can also help determine factors contributing to – or causing – your issues and/or discomfort, and teach you how to help prevent it.
So runners, take heart. Your favorite sport isn't likely to ruin your knees, and may even help protect them. While it may be natural to assume that the  running may be damaging, recent studies haven't shown that's true. If you are experiencing knee pain or other knee problems, plan a visit with a Physical Therapist. You'll learn how you can improve your condition and keep running strong.
At Body One Physical Therapy, we work with patients of all ages and activity levels and see many runners, other athletes, as well as people who just want to feel and move better. We're both locally owned and operated, with three locations serving Central Indianapolis: North Indy/Carmel, Fishers, and Zionsville.  Whether you're a struggling runner, someone sick of back pain, you're dealing with post-surgical recovery, and more, our team of caring, expert Physical Therapists is ready to get to work and help you get back to feeling your best. Call or click today to find out how the Best PT Team in Indy can help!