19 Jan

The Do's & Don'ts of Squats

This time of year, there are all sorts of fitness challenges taking off – and some really popular ones involve doing sets of squats every day or in specific workouts. Squats are a great exercise; however, many people struggle with proper form, which can result in difficulty and even injury. If you want to start squatting, here are the do's and don'ts of how to squat properly and safely:

Don't:

Let your knees come in

Let your heels leave the ground

Lean forward too much

Arch through your lower back and neck

Do: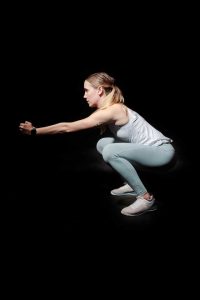 Stand with your feet slightly wider than shoulder's width
Keep your chest up
Keep knees over the midsection (shoelaces) of your foot
Keep your back and ribcage upright
Modifications:
Elevate your heels (use a small block or hardback book)
Hold a small weight and reach forward (this will help engage your core and keep your torso upright)
Need more help? Here's a video walkthrough of how to do a squat properly, featuring Dr. Eric Oberst! 
If you're ready to try adding squats to your workout, start with your body weight and go slowly. Don't jump into doing dozens and dozens at a time – but build up to being able to do more squats comfortably. You should be challenged, but not in pain. If you're struggling with working out, dealing with pain, discomfort, movement issues, or other problems of the musculoskeletal system, Body One PT is ready to tackle it with you!
We're locally owned and operated and have three locations serving Central Indianapolis: North Indy/Carmel, Fishers, and Zionsville. Whether you're recovering from surgery, injury, need help with pain or movement issues, our team of expert Physical Therapists works with clients of all ages and activity levels – and we'd love to show you why we're the Best PT Team in Indy! Don't wait, call or click today!