27 Aug

You Are Not Your Diagnosis

By Dr. Jenny Kern, PT, DPT

Rheumatoid arthritis. Fibromyalgia. Amputation. There are countless diagnoses and conditions out there with intimidating words. It's hard to not take these diagnoses personally when they become a part of your medical history; however, you don't introduce yourself, "Hi, my name is Fibromyalgia." You are not your diagnosis.
It may feel like your world shatters or is turned upside down when those words are said to you. Maybe you didn't even know that was a condition. You begin to research it, find articles and treatments for it, discuss it with friends and family, and soon, it's all you can think about. It may begin to define you – but you have power over your life. You have power over your diagnosis; it does not have power over you!
The first step to taking your power back is accepting that you have the condition, and not the reverse – the condition does not have you. You may have to adapt some of your hobbies or work, or you may have to begin or modify some exercise or treatment regimens. That's really just a minor part, and there is still so much more to your day. Don't let detours and road blocks stop you from living to your fullest and finding joy in your day, your relationships, and your strengths.
The next step to being more than your diagnosis is to not dwell on it. It may seem hard and unfair, and there will be times where you feel sorrow and self-pity. You can't let these thoughts take hold of your day and steal your joy! The more you think and talk about the hardships and pain, the more prevalent the pain becomes. If you seek other areas of interest to think and discuss, your pain and hardships suddenly get transferred to the back burner. They no longer become the foremost thoughts of your mind. You're no longer "Cancer," but "Holly who loves her family and enjoys walks with her dog, and playing checkers with her mom, and enjoys baking cookies, and…" The less you dwell on it, the less you let it affect you.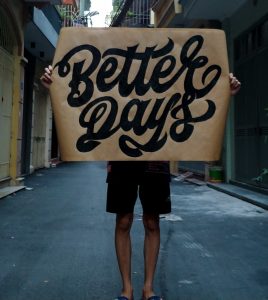 Finally, the last step to regaining full control of your power is to change your outlook. If you can't change your circumstances, change your attitude. You could say, "It's not fair. Why did this happen to me? All I do is hurt all the time. No one understands my pain." Or you can say, "I was dealt a more challenging hand in life. But, hey, these trials are what make me stronger. Because I know I can endure this, I will come out wiser and stronger and may be able to share these difficulties with others and help them learn and grow as well." It's all about perspective.
So choose to change your perspective. Choose to not let your diagnosis define you. Choose to take steps that maximize your life, your dreams, and your goals. Choose to believe in trusted family and friends, your healthcare team, and yourself. Choose to step out today and say, "Hi, my name is _____, and I am NOT my diagnosis."
If you would like help with managing your physical symptoms or discussing how to maximize your function, contact Body One Physical Therapy, where our goal is to help you reach yours. Our team of caring, talented Physical Therapists treats clients of all ages and activity levels, and we'd love to help you get back to living your best life. We're locally owned and operated, with three locations serving Central Indianapolis: North Indy/Carmel, Fishers, and Zionsville. If your diagnosis or condition has turned your life upside down, we're ready to help you turn it right side up. Call or click for an appointment today!