09 Jul

Stressed? Exhausted? Pandemic-overloaded? The Simple Step You Can Take Today to Feel Better

It may seem like 2020 has been the longest year in history – and it definitely has been one of the most stressful years in recent memory. The pandemic has colored every area of our lives: family celebrations, graduations, shopping, dining, working, and relaxation. It's easy to see why people are feeling more stressed out and mental health has declined for many. There's one really simple step you can make part of your regular routine that can help with stress and mood: get outside and get moving. 
We've written about it before in this article. Whether it's a bike ride on a wooded trail, a nature hike, a run through the trees, or a peaceful walk after work, getting outside for some physical activity has been shown to reduce stress and improve mood in as little as 20 minutes! Bonus points if you swim in a lake or wade in a stream.
It makes sense. We weren't built to sit (slouching, no less) inside all day in front of our computer monitors or devices. When life has driven us physically apart – at least temporarily – returning to the simplicity and mood-boosting benefits of nature is an easy, and typically-free way we can take care of ourselves.
While activity helps, even sitting on a quiet bench in your favorite wooded spot can improve your mood. Since the summer weather may not lend itself to much mid-day outdoor activity, try to plan your nature visits to the cooler hours early or later in the day. Take along some bottled water to be sure you stay hydrated and if you feel overheated, you've probably had enough for one day – especially if you're not acclimated to the heat.
Urban jungle dwellers can usually find some green space either at a nearby park or by taking a short drive outside of the metro area, while those in the suburbs may have access to walking paths or parks. If you've lucky, you can even make your mental-health boost part of your lunch hour and head back to your office feeling recharged.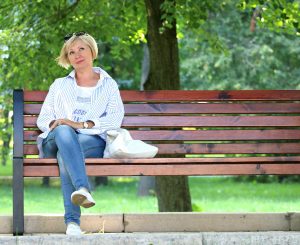 Mental health is just as important as your physical health; and the two are part of the same package. If you're having problems with your musculoskeletal system like pain, movement, or mobility issues, it can also affect your mental health and ability to enjoy simple plans like a walk in the park. A quick assessment by a physical therapist can make all the difference between staying stuck and receiving a custom treatment plan to improve your health.
At Body One Physical Therapy, we're locally-owned and operated, and our expert physical therapists see clients of all ages and activity levels. We have three locations serving Central Indianapolis: North Indy/Carmel, Fishers, and Zionsville making finding the right provider even easier. Don't sit out this summer – call Body One today and let us help you enjoy your life!