19 Mar

3 Things to Remember While You Work from Home

The Coronavirus pandemic has caused school closings and forced people to work from home across the country (when possible); with that comes reminders that working at home entails a new mindset and we share some pointers to help keep you in good shape for this short-term shift.
Posture: At your desk or when standing at work, it might be easier to remember to practice good posture. At home your work space might look a little more…like your couch? Or you might be off work and taking care of kids, so you're in parent-mode instead. No matter what you're doing on your enforced break from work, remember to stand up or sit up straight!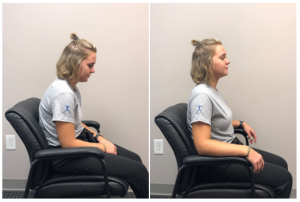 Take Breaks: Honor your time the same way you would at work. Take a lunch break and disconnect from work – even if you only go into a different room or read a book for 30 minutes. Get up and stretch every so often, especially if you're working from a couch or other furniture that isn't upright or supportive. Be sure you're moving periodically!
Pay Attention to Your Stress: Stay connected with co-workers and friends. Do what you can to manage your stress levels: exercise, meditate, talk with family and friends, try taking a break from the news if it's upsetting, and if your stress level becomes more than you can handle alone, reach out to a professional. Many medical professionals are offering tele-medicine for the current situation.
When you're "off the clock" at home:
We're all living through a very stressful time; being out of our normal routines, stuck at home, and bombarded with uncertainty daily only adds to the weight on everyone's shoulders. When you're not officially "on the clock" working at home, or tending to kids, you can:
Keep Moving: Dust off those old work-out DVDs, watch some online videos, go for a run/walk/hike/bike outside, try some yoga, play outdoors with pets or kids, or even work up a sweat with some spring cleaning! The main idea is that you don't use the importance of social distancing to give up on staying active and healthy.
Focus on Healthy Food Choices: It may be harder to find all your usual options at the grocery right now, but do your best to make healthy food choices. If you find yourself "stress-eating," try to snack on healthier options like fruits and veggies, instead of junk food.
Do What You Enjoy: If you love library books, but the library is closed, try downloading e-books. If you're used to a Friday night movie with friends, plan instead to stream a movie you can discuss over the phone later. Pick up some hobbies you've ignored for awhile – writing, drawing, painting, photography…. Whatever you enjoy doing.
Body One Physical Therapy released our statement here about the novel Coronavirus. In addition, you can find accurate, current information from the CDC here. If you are dealing with pain, movement, or other problems of the musculoskeletal system, we're still here to help. Body One is locally-owned and operated, with three locations serving Central Indiana: North Indianapolis/Carmel, Fishers, and Zionsville. Call today to find out how we can help you feel better.