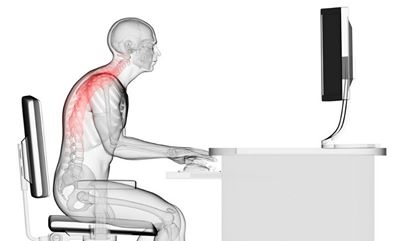 28 Feb

Sitting Disease

"Sitting disease" is a catchy term, now recognized in the medical community, which describes health risk factors associated with a sedentary lifestyle. According to a 2008 Vanderbilt University study, the average American spends 55% of their waking time in sedentary behaviors such as driving, working at the computer, or watching TV. This accounts for an average of 7.7 hours per day of sitting. A cardiologist at the Mayo clinic described the risk of heart attack in a population that regularly sits for this period of time as "about the same as smoking." Recent studies in England and Australia link prolonged sitting to increased likelihood of heart disease, diabetes, cancer, and obesity, all of which are preventable.

As you could likely guess, activity is the greatest combatant to sitting disease. Regular, daily exercise has been shown to achieve the following health benefits:
Decrease risk of mortality by all causes by up to 30%

Decrease risk of dementia by 30%

Decrease risk of hip fracture by 68%

Decrease depression by up to 30%

Decrease risk of various cancers by up to 30%

Decrease risk of Type 2 Diabetes by 40%

Decrease risk of cardiovascular disease by 35%
Changing habits is the simple answer, but understand simple is not always easy. Here are some tips to increase your daily mobility and exercise:
Set a desk-top timer on your computer to remind you to get up once an hour

Take the stairs when able

In the parking lot, park away from the building

Walk at lunch or on breaks

Get a partner at work to walk with and hold you accountable

Drink regular water during the day, thus necessitating more frequent walks to the restroom…and take the long route

Sit-stand adjustable desks
The important thing to remember is that, although the health risks of prolonged sitting and a sedentary lifestyle are serious, the treatment is within your power. While it is true that it may take time to adopt a healthier, more active lifestyle, it's time well spent! If you have movement, pain, or mobility problems limiting your ability to get or stay active, seek the help of a physical therapist. A PT can assess, diagnose, and develop a treatment plan to address issues and conditions of the musculoskeletal system and work with you to decrease pain and improve mobility and activity.
At Body One Physical Therapy, call any one of our four locations serving Central Indiana to schedule an appointment: North Indianapolis, Fishers, and Zionsville. Our team of physical therapists works with clients of all ages and activity levels and we'd love to get you moving in the right direction!