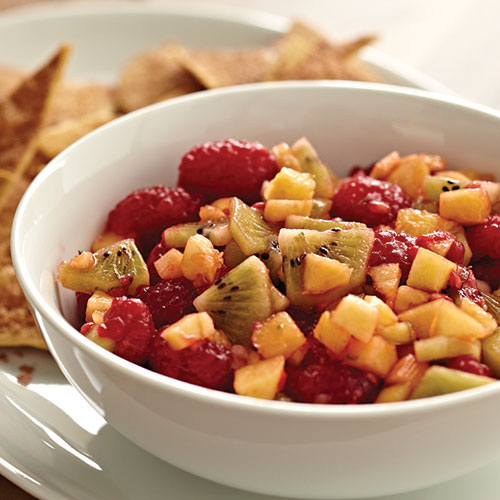 27 Apr

Tangy Fruit Salsa With Cinnamon Chips

Sweeten your options with this raspberry, peach and kiwi fruit salsa. Cinnamon tortilla chips are the ultimate dippers.

Cinnamon Chips
1 tablespoon sugar
1/4 teaspoon ground cinnamon
4 (6-inch) flour tortillas
Salsa
1 cup frozen raspberries
2  peaches, peeled and chopped or 1 can (15 oz) sliced peaches, drained and chopped
2   kiwifruit, peeled and chopped
1 teaspoon lime zest
2 teaspoons lime juice
1 teaspoon sugar
Directions
For cinnamon chips, preheat oven to 400°F.  In a bowl, combine sugar and cinnamon. Lightly spray tortillas with water; sprinkle with cinnamon-sugar mixture. Cut each tortilla into 8 wedges; place in single layer on an ungreased baking pan. Bake 8-10 minutes or until lightly browned and crisp. Remove to wire rack to cool completely.
Meanwhile for salsa, In a large bowl, combine the salsa ingredients. Mix gently.
Serve with cinnamon chips.
Yield: 2-1/4 cups salsa (32 chips)
Recipe by Pampered Chef