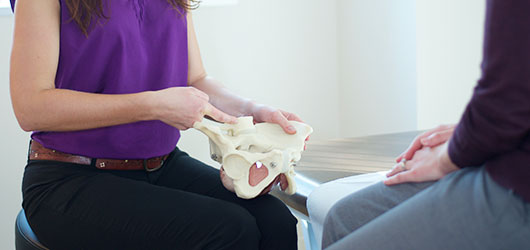 12 Jul

Did You Know PT Can Help Women's Health Issues?

36% of postpartum women will discover they have separation of stomach muscles

33% of women have bladder leakage

Physical therapy can be very effective in treating many women's health issues that occur as their bodies change, whether as a result of childbirth, surgery, or simply the effects of time. A physical therapist specializing in women's health can perform a detailed musculoskeletal assessment of abdominal muscle separation, pelvic floor muscle function, postural alignment and coordination of deep trunk muscles. Based upon those findings, an individualized plan of care is determined. Each of these functions are important in preventing incontinence, prolapse, and back pain that may be experienced throughout daily tasks and interfering with an individual's ability to engage in physical activities that they love to do, such as running. Treatment may include appropriate strengthening exercises, muscle awareness activities, manual therapy techniques, soft tissue mobilization, home exercise program instruction with patient education emphasized throughout. We, at Body One Physical Therapy, recognize that these health issues can be a sensitive matter and often difficult to discuss. We ensure a safe, private and welcoming environment in which a patient will feel comfortable undergoing treatment with our therapist whom is dedicated to the patients in need of this specialty.

Dr. Hannah Enochs is treating women's health concerns at our Zionsville and Fishers locations. If you are experiencing any of the symptoms mentioned above or are interested in preventative care, please contact Body One today to schedule an evaluation. A physician referral is not necessary.