Looking for a New Way to Get Total-Body Strong? We Tell You What to Try this Year
If you've resolved (or even only just decided) to make getting healthier a priority in the new year, why not try an activity that can benefit your entire body and that's even used by professional athletes? Pilates is often confused by some as being the same as yoga, but it has a  different focus and works in different ways. We explain what Pilates is, how it can help you, and how you can try it out (if you're near us)…
Pilates Is: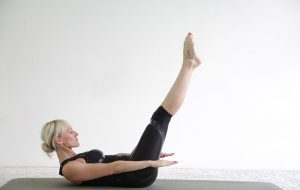 A system of exercise developed in the early-to-mid 1900s by Joseph Pilates. According to Pilates.com, his war-time internment led to developing some of his key mechanical resistance ideas using hospital beds and springs, which helped create later Pilates equipment design. Pilates, like yoga, does emphasize a mind-body connection. Pilates focuses more on core strength and developing a balanced, well-conditioned body that is lean and strong. Pilates is also gentle but still challenging, and has levels from beginning to advanced.
The Benefits of Pilates:
According to an article in Time magazine, taking Pilates classes can help people change movement patterns and become more like dancers – that is, aware of their bodies, posture, and movement. The Time article highlights research showing practicing Pilates can offer:
Improved posture

Core strength offers reduced pain from lower back problems

Injury prevention

Better flexibility

Improved athletic performance (which is why many pros turn to Pilates)

Activate deeper abdominal muscles, improve ab strength
The article notes that as with yoga, Pilates also has a focus on breath during exercise. They note that you may not lose weight, although newer forms with machines may increase the cardio challenge.
Where to Try Pilates:
Body One Physical Therapy offers traditional mat Pilates classes at our Zionsville location. If you're interested in trying Pilates with a machine, we also have private classes available with the Pilates Reformer machine. Pilates can be a great complement to your fitness plan. If you're recovering from injury or working on strengthening your musculoskeletal system, depending on what your physical therapist recommends, it could be a good addition to your routine, or once you're released and/or recovered.
Body One Physical Therapy wants to be part of your health and wellness team. We're locally owned and operated with four locations serving Central Indiana: North Indianapolis, South Indianapolis, Fishers, and Zionsville. Having your own physical therapist can be a great resource, just as you have your own general physician. A physical therapist can assess and treat issues of the musculoskeletal system, and will refer you to a specialist or for imaging should it be necessary. Much like your family doctor, you can make an appointment directly with your physical therapist: the office will work with your doctor and insurance if future visits and/or a referral are needed. Don't sit on the sidelines of your life, get in the game! Call Body One today and let our team of caring, specialized providers help you get moving and feeling great.
Related Posts