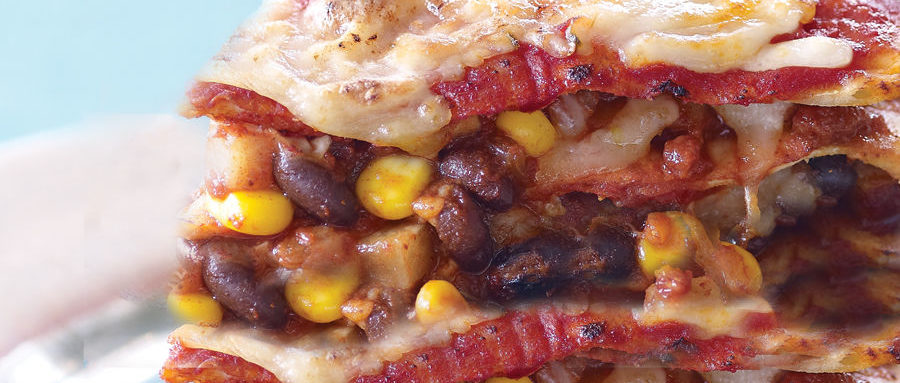 Tortilla Lasagna
Dr. Punam Hills shares a favorite recipe of hers.
Yields: 8 servings
Ingredients
6 8-inch fat-free flour tortillas
1 Tbs. olive oil
1 small onion, chopped (1 cup)
2 Tbs. chili powder
2 tsp. ancho chile powder
2 cloves garlic, minced (2 tsp.)
2 cups strained tomatoes, such as Pomi, divided
1 1/2 cups cooked black beans, or 1 15-oz. can black beans, rinsed and drained
1 medium chayote, peeled and diced, or 2 medium zucchini, diced (11/2 cups)
1/2 cup fresh or frozen corn kernels
1 1/2 cups grated Monterey Jack or pepper Jack cheese
Preparation
Preheat oven to 350°F. Toast tortillas on 2 baking sheets in oven 5 minutes, or until light brown, turning once.
Heat oil in saucepan over medium heat. Add onion, and sauté 5 minutes, or until soft. Stir in chili powder, ancho chile powder, and garlic, and cook 30 seconds. Add 1 1/2 cups strained tomatoes, beans, chayote, corn, and 1/2 cup water, and season with salt and pepper, if desired. Cover, and cook 10 minutes, or until chayote is tender.
Coat 2-inch-deep x 8-inch round baking dish with cooking spray. Spread 1/4 cup strained tomatoes in bottom of pan. Set 1 toasted tortilla in pan; top with 3/4 cup bean mixture and 1/4 cup cheese. Repeat layering 4 more times. Top with last tortilla, and spread remaining 1/4 cup strained tomatoes over top. Sprinkle with remaining 1/4 cup cheese. Bake 30 to 45 minutes, or until casserole is bubbly and cheese has melted. Let stand 10 minutes before cutting into 8 wedges.
Recipe Source: Vegetarian Times
Related Posts